Letter to Pet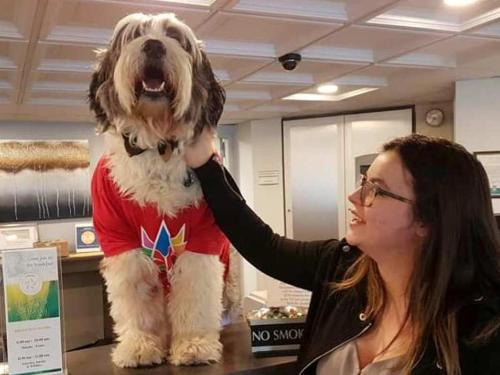 Dear Furry Guest,
Welcome to the Quality Inn West Edmonton! We are so glad you decided to spend some time with us. Anyone as cute and well behaved as you deserves the best! Please try to keep control of your other family members during your stay.
Your room is located on the main floor in a Pet Designated Room so you have easy access to do your business. We wouldn't want to find you in a non-pet room because then your human will be paying an extra $250 for cleaning plus the additional pet fee per night.
We have provided a great spot to walk your person and some tools to keep your area clean and neat. It's a great place to meet others. Exta poop bags are availbable at the Front Desk.
Be sure to tell your humans not to leave you in the room unattended. We know you get lonely and cry. Others get upset if you do.
Please don't chew on anything in the room except your treats and toys. You could get a tummy ache and we don't want you to get scolded if your people had to replace stuff.
Unfortunately, the big dogs that run things won't let you run around without being on a leash and only "Certified Service Animals" are allowed in the Breakfast Room and non-pet friendly rooms.
If you don't want to be disturbed or tempted to wander outside, be sure to have your person put the "do not disturb" card on your door.
Please don't bite the staff no matter how delicious they look. They really hate it and don't taste good.
Here at the Quality Inn West Edmonton, we love dogs, cats and kids. Enjoy your treats, and the next time your people get ready to take you on a trip, tell them to call us at
800-4CHOICE or go to our website at www.choicehotels.com. You are your people are always welcome here.
Sincerely,
Lead Dog