Handicap or Special Needs Information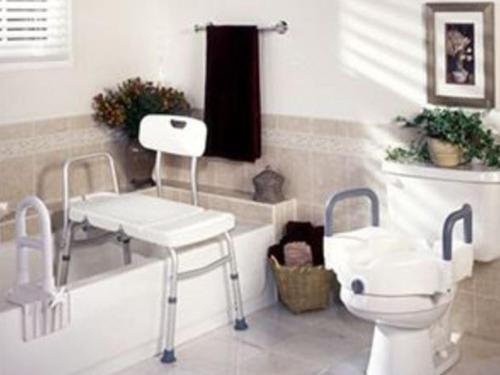 The Quality Inn West Edmonton is a 30 year old concrete building and was not originally designed with Handicap Accessible guest rooms. At the time there was no demand but thankfully times have changed and we are attempting to make our guests with specials needs stay with us more enjoyable.
We have two guest rooms that lend themselves to being handicap accessible. Room #237 and #337. These two rooms have one queen bed. The bathroom doorway is wider and the bathroom is laid out so that a wheelchair or walker can maneuver.
We have a number of daily aides for living which you can see in the attached picture. This picture is of the aides only and is not a picture of our bathroom. We also have a hand held shower that can be installed if required.
All aides must be requested in advance so that our maintenance staff can install prior to arrival. These rooms are not equipped unless requested so that they can be rented to those who do not require these items.
If you are booking online please use the "Special Requests" field to indicate you need a Handicap Accessible Room and the items you need installed for your stay. If you are calling to make your reservation please ask the Front Desk Agent to make notes in your reservation that you require a Handicap Accessible Room and the items you require for your stay.
We also have a walker and wheelchair available in case you are here for a medical procedure and just need help temporarilly to get to your room safely.
All aides are for your complimentary use during your stay.