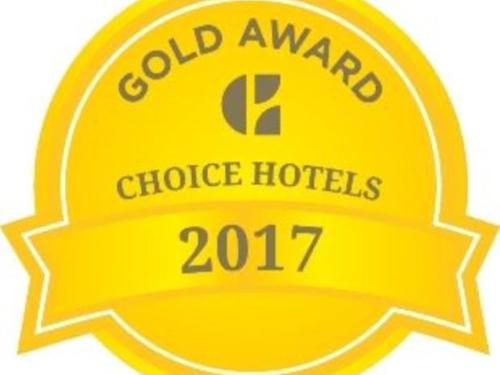 The Quality Inn West Edmonton in Edmonton, Alberta has been awarded the prestigious 2017 Gold Hospitality Award by Choice Hotels Canada. Gold recipients were chosen from among 320 Choice Hotels Canada properties across the country and represent the top ten percent of Choice Canada's portfolio. To qualify for this award, properties must excel in a variety of categories including guest satisfaction and independent quality reviews.
"Our Gold and Platinum recipients represent properties that have provided a superior experience to guests at an outstanding value." says Brian Leon, Managing Director, Choice Hotels Canada. "These hotel owners and operators continue to drive excellence across all our hotel brands and we couldn't be prouder of the work they have achieved."
"To be counted among this year's Gold Award winners is an absolute honour," says hotel General Manager Lillian Pushor. "We take tremendous pride in being a member of the Choice Hotels Canada family of brands, and take our commitment to excellence and to delivering the highest standard of guest service very seriously, it's our top priority."
2016 was another strong year for Choice Hotels Canada as it launched the redesigned award-winning Choice Privileges rewards program, which includes a series of new benefits allowing guests to receive greater and faster rewards. The hotel franchisor also rolled out the SmartRates revenue management tool across Canada to much success.
For more information or to make your reservations at the Quality Inn West Edmonton or at any of our award-winning properties, call 800.4CHOICE or visit www.choicehotels.ca.
-
Choice Hotels Canada® is the nation's largest hotel franchisor with 340 properties currently open or under development. We are affiliated with Choice Hotels International, Inc., which franchises more than 6,500 hotels in 40 countries and territories worldwide. Our company's Ascend Hotel Collection®, Cambria® hotels & suites, Comfort™, Comfort Suites®, Sleep Inn®, Quality®, Clarion®, MainStay Suites®, Suburban Extended Stay Hotel®, Econo Lodge® and Rodeway Inn® brands provide a spectrum of lodging choices to meet guests' needs. With more than 30 million members and counting, check out our Choice Privileges® rewards program to see how you can reap the benefits of being a member of the Choice Hotels® family. All hotels are independently owned and operated. Visit us at www.choicehotels.ca for more information.